Gorgeous Natural Color Sarees in Vibrant Colors
Although many sarees are known for their extravagant and busy designs, here at Thayari we take pride in our ability to not only offer the most beautiful printed sarees, but also naturally colored sarees that feature beautiful, vibrant, natural colors. Our naturally colored sarees have quietly become one of our most popular items, allowing wearers to display their personal taste and style.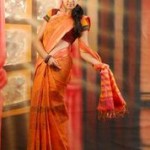 Great for a Variety of Situations
The natural colors provided by a variety of products offered here at Thayari make them great for a wide variety of different situations. While printed silk sarees and other products that we offer might be great for social situations or events that you would like to dress up for, you have to take into consideration that some of the more formal events that you attend may require a more humble approach. Our beautiful naturally colored sarees use only natural colors to ensure that our products have a natural look that makes them appropriate for a wide variety of different events and situations.
Beautiful, Vibrant Colors
Although the term 'natural color' might make you assume that our sarees will be pastel-colored or bland, that could not be farther from the truth. Our beautiful collection of sarees feature an all-natural color scheme that makes them an excellent choice for anyone that is looking for beautiful, vibrant coloring while still maintaining the natural look. Our wide range of different designs feature natural colors that allow you to find something that matches your own personal taste.
Different Styles
We carry several different styles of sarees, each of which has their own benefits and merits. Depending upon the style of saree that you choose, they can be folded differently from one another, with different areas of the dress being tucked in. Take a look at our selection to determine if our sarees are going to help to bring out your personal style and taste, and show your true colors.
Our wide range of naturally colored sarees make Thayari an excellent choice for individuals that are looking for vibrantly colored dresses that are tasteful, beautiful, and resilient. They are excellent for a variety of different social situations and make it easy for you to feel comfortable attending any event in our naturally colored sarees.